How Social Media and the Shrinking Consumer Attention Span Are Connected — And What That Means for Video Content Marketers
If you're scrolling through your phone — whether you're on TikTok, Facebook, YouTube, Instagram, or any other platform — chances are you're streaming some sort of video content. In fact, according to Dex Torricke-Barton, former Facebook, Google, and SpaceX executive, online videos account for more than 80% of digital traffic.
The prevalence of online streaming has made companies invest significantly in video marketing, specifically, social media videos. A recent Hubspot survey reveals that 88% of companies have a dedicated video content team, and 67% of marketers report that videos on social media have the biggest ROI. Additionally, 39% of marketers say that short-form videos (between 20 and 60 seconds) generate the largest ROI. More than half of the surveyed marketers plan to increase their investment in TikTok and Instagram videos in the coming year.
All of this data shows that marketers are dealing with two truths:
Consumers love video content
Short video content performs best on social media
Marketers tapping into their creativity have come up with a solution to suit the dual reality: short-form social media marketing videos.
The Shrinking Consumer Attention Span and Short-Form Video Content
In 2000, attention spans clocked in at 12 seconds, whereas today, they hover around eight. In 2015, TIME announced to its readers, "You Now Have a Shorter Attention Span Than a Goldfish."
Naturally, companies responded to the shrinking attention span with shorter videos. Since the 1970s, television commercials have been 30 seconds long. Slowly, companies began to realize that the consumer attention span tapered off after about 15 seconds. Since 2017, 10- and 15-second ads have taken over.
Then came COVID-19, which mental health experts say caused widespread mental exhaustion, which, unsurprisingly, can affect the ability to concentrate. At the same time, TikTok took off, especially among those between the ages of 15 and 25 (an 180% increase, according to Statista.)
TikTok President of Global Business Solutions, Blake Chandlee, attributed the app's rise in popularity to content diversity and inspiring stories — which people were hungry for as they remained cooped up in lockdowns.
Taking a Deeper Look at the "Short" Consumer Attention Span
We know that consumers' attention spans are short, but that's not true all of the time. In the past few years, when the collective attention span has been at its shortest, many successful films have run more than two and a half hours, including Once Upon a Time in Hollywood (two hours and 40 minutes), The Irishman (three hours and 29 minutes), and The Batman of 2022 (two hours and 56 minutes).
Not to mention that binge-watching is alive and well. Research by Statista shows that 70% of adults between the ages of 30 and 44 watch shows back to back, along with 69% of adults between the ages of 18 and 29.
Don't get the wrong idea — movies and television shows aren't marketing content, and marketing videos shouldn't be two hours long! But there is space, even in the non-entertainment world, to create longer content.
TikTok, for example, has been steadily increasing the maximum length of its videos — from its original 15-second limit to 60 seconds to three minutes, and most recently, to 10 minutes. Both companies and individuals can now create longer pieces of content should they want.
Why is some long-form video content okay while others are not? A different Statista survey explains the conundrum of the short attention span and the success of certain long-form video content: engagement.
Viewers who are "really engaged" want to keep watching whatever it is they're watching, whether it's two minutes or two hours. Simple, right?
How Video Marketing Has Changed in Response to Social Media Video Content
The popularity of online video content on social media (76%) and the consumer preference for short videos (36% prefer videos less than three minutes long) have changed the content marketing landscape. While marketers have always aimed to produce content to engage consumers, the prevalence of social media videos has changed the way they do so.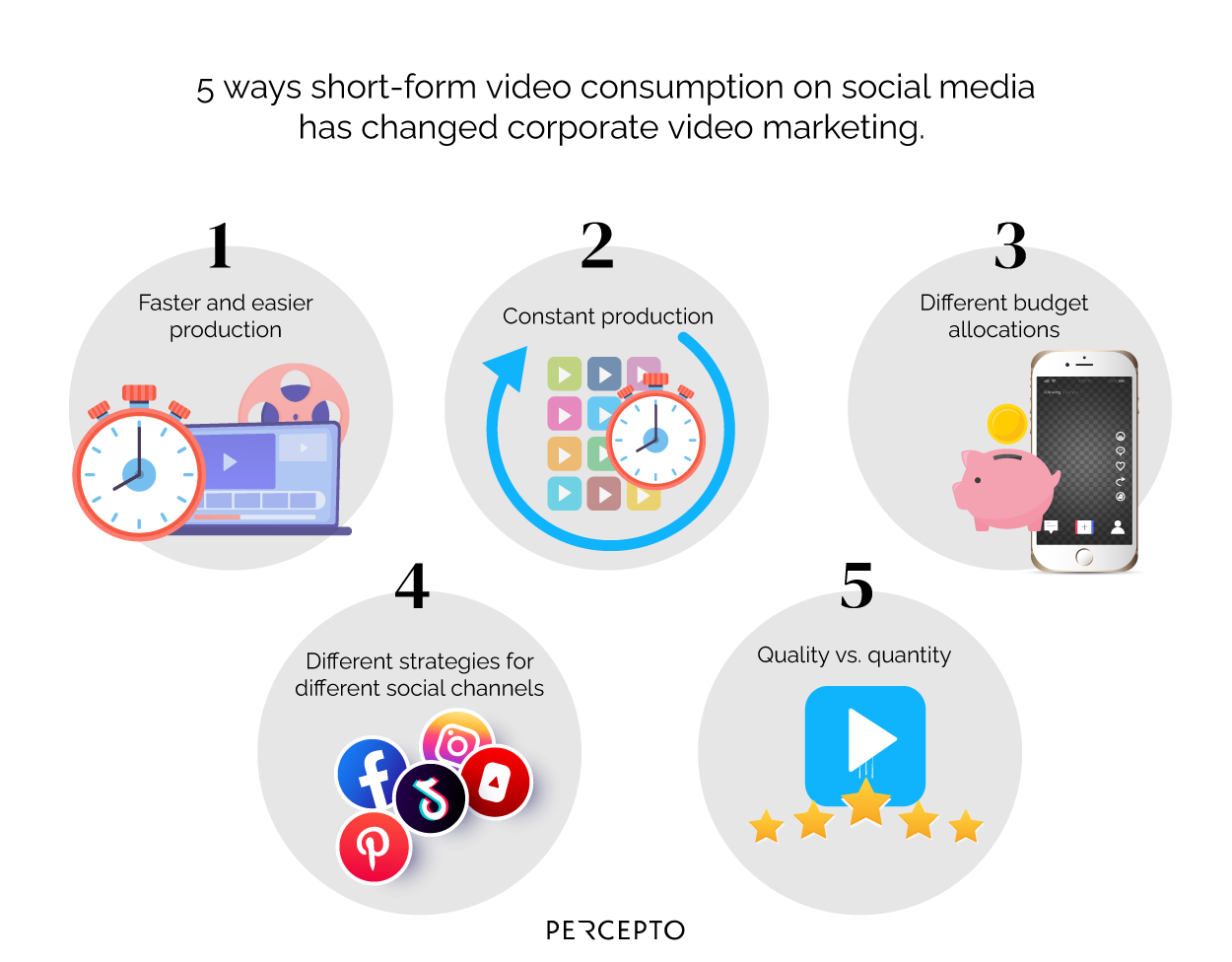 Here are 5 ways that short-form video consumption on social media has changed corporate video marketing.
Faster and easier production
In the past, there was one main option for companies that wanted to produce video content: hire an outside studio and go through three to five stages of video production, which could take anywhere between four to eight weeks

. Today, the

stages of video production

are still relevant:
Planning & development
Pre-production
Production
Post-production
Marketing & distribution

However — the entire process has been fast-tracked due to the brilliant creation of smartphones and several brilliant apps that allow companies and individuals to create high-quality content from the palms of their hands.
This option has made it easier than ever for marketers to produce a constant stream of content. Of course, the traditional route is still available.
Constant production
Social media produces a constant stream of content — have you ever noticed that you can scroll and scroll without ever coming to the bottom of a page?

So even though it's faster and easier to produce a video for social media, the need to produce a continual stream of content means that marketers must invest the same amount (or more) into the planning and pre-production stages of video creation.In a way, this can be harder than the previous 30-second videos, since marketers need more ideas for short videos, plus, they need to pack a whole lot of oomph into eight seconds of air time.
Different budget allocations
Due to the option to bypass traditional production companies, the costs of video production have gone down significantly. Professional marketing videos

can cost anywhere between $1,000 and $5,000 per finished minute. For marketers who want to roll out at least one video per week, that amount can snowball quickly.

Using a smartphone video camera and editor

costs significantly less, and is a much more realistic solution for brands that want to produce a steady stream of content. At the same time that video production costs decrease, marketing costs may increase, as marketers will likely want to advertise their videos on a variety of social media sites.
Different strategies for different social channels
Video content may reign supreme across all social channels, but each platform has its own nuances and consumer preferences. Here

is a great breakdown of the lengths for different social platforms (notice how most are under 30 seconds and all are under a minute.) While this list is current now, it will likely change in the next six months. Marketers need to stay on top of the trends while creating specific video content strategies for each social platform.
Quality vs. quantity
According to Hubspot, only 28% of consumers feel that a brand's video quality is very important, while 36% feel that it's somewhat important. In other words, the majority of consumers value video quality, but not that much. Nearly 40% don't value it at all.

That leaves marketers balancing a delicate tightrope of the need to produce quality videos with the need to produce constantly. Usually, a high quantity comes at the expense of quality. Today's marketers must know how to divide their resources so that they produce enough high-quality content and sufficient good-enough content so that they make their mark on their audiences.
Key Takeaways for Video Content Marketers
Social media platforms are the most powerful tools for video marketing and generate the highest ROI
The consumer attention span has been getting shorter over the past 50 years, recently hastened by the onset of COVID and the invention of TikTok
Approximately one-third of consumers prefer marketing videos that are under three minutes, which means that marketers must make a concerted effort to produce short-form content.
Long-form content can also be effective IF it's engaging enough
The combination of social media and the short consumer attention span has changed the face of video marketing in many ways.
The bottom line is that the short consumer attention span isn't a bad or good thing — it's simply reality. In the world of marketing, there will always be challenges regarding how to engage consumers. The key is to be aware of what drives consumer behavior in the milieu that you're operating in, while being prepared to enact changes to stay ahead of tomorrow's trends.